March 2017 News Update

It's been a very eventful week here at La Ferme du Colvert. From family get-a-ways, birthday parties, hosting a TV shoot and even an engagement!
Last week our Lotus Pond gardens transformed into a set as the crew from national channel VTV3's Cafe Sang stopped by to film two segments of their popular weekly cooking show. The talented local chef Nguyễn Mạnh Hùng whipped up a variety of fresh and delicious dishes all within the beautiful backdrop of our leafy gardens. Check out our latest blog post for more on our VTV3 debut.
Also on the foodie front, last week we welcomed the arrival of our seasonal veggies-freshly picked from our very own gardens. Lasts week's harvest consisted of fresh cabbage, carrots, leafy greens and cherry tomatoes. These premium, fresh and organic veggies are served daily in our home-made French-Viet-Muong fusion recipes at the Colvert Restaurant and are also available for home-order and delivery at Organic Colvert Atelier.
Last weekend we were honored to host several family gatherings and celebrations. At just 40 km from Hanoi many families look forward to escaping the hectic city life for a tranquil and relaxing weekend surrounded by nature. Offering something for the whole family, kids enjoyed our tuk-tuk and bike tours, as well as playing with diverse animals throughout our gardens, while parents took advantage of our Spa Nature services and relaxed pool-side. At night, families came together to enjoy delicious fusion specialties at the Colvert Restaurant as they celebrated a very special birthday, all before local entertainment performed traditional and contemporary dance.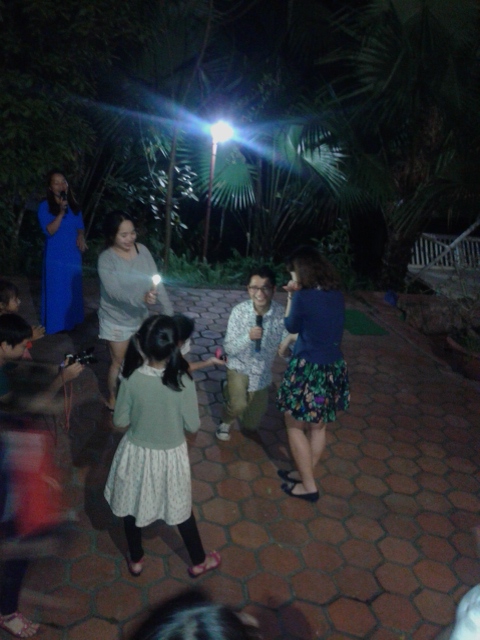 That`s when the night got interesting as the romantic setting called for the engagement of two guests in love. The love birds joined us on stage, he asked and she said yes! It was a very special evening to be surrounded by friends and family.
Thank you so much to all of our guests for allowing us to be part of your very special occasions!
La Ferme du Colvert is able to host large groups for occasions such as birthdays, anniversaries, reunions, meetings, retreats, functions and much, much, more. For more information on our group spaces and capabilities please contact us directly at booking@lafermeducolvert.com.
Ever visited LFC? Tell us about it or share a favorite picture on facebook or instagram using #lafermeducolvert or #vitcoxanhresort.
Keep up to date with upcoming music, art events and exclusive offers at La Ferme du Colvert by following us on facebook or by subscribing to our monthly newsletter here (unsubscribe anytime) http://eepurl.com/csRnOr