British Vietnamese International School Year 4 Visits LFC
Last week La Ferme du Colvert opened its doors to welcome British Vietnamese International School Hanoi (BVIS) Year 4 bilingual students and teachers who spent two days and one night taking part in numerous hands-on activities throughout our 25 ha Eco-resort (scroll down for more information on our functions offers and facilities).
Students arrived mid morning from nearby Hanoi, were separated into groups and jumped right into one of four workshops related to sustainable tourism, cultural conservation and local development.
Students participated in workshops focusing on culinary skills using fresh and sustainable ingredients; gardening and maintaining our own and local organic gardens; traditional methods of collecting organic tea leaves and finally animal husbandry in which students cared for and fed some of the many animals we have on site.
After all that work, students and teachers  were excited to sit down at our pond and pool-side Le Colvert restaurant to enjoy a tasty homemade lunch, prepared with fresh seasonal local produce.
During the culinary workshops students were separated into two groups: sweet and savory. Students in the sweet group baked homemade coconut macaroons following the original French recipe of Rochers Coco.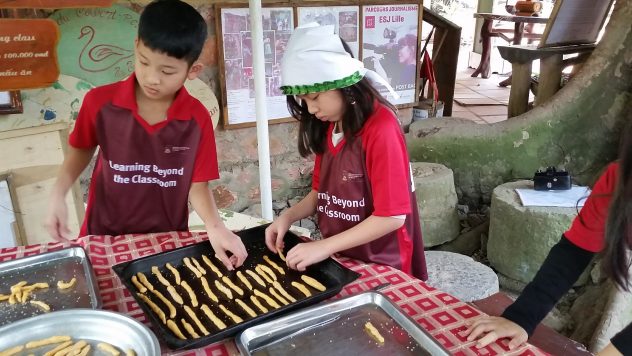 Students in the savory group used our LFC signature and top selling Gressini recipe to create homemade Italian aperativo sesame sticks that were also served during lunch. Find out more about Gressini here!
Meanwhile three other groups were busy in the gardens and Resort's own tea hills. One group got their hands dirty as they dug in the garden, planted seeds and seedlings, and learned about organic farming. They then rotated to work with our local herbalist Madame Hiên, who instructed the youngsters on local and traditional techniques of collecting organic spring tea leaves. The last group learned about raising and caring for animals as they visited and fed dogs, cats, red and gold koi fish, rabbits, ducks, chickens and other exotic birds.
Quick, tasty and kid-friendly dishes were served hot by our friendly restaurant staff. Tables were prepared family-style with homemade local and western dishes laid out so students could sit together and enjoy their meals. Students weren't the only happy ones as we got rave reviews from teachers alike!
After lunch, team-building exercises were on the agenda as students worked together in relay races and team sport to achieve common goals. The setting was perfect on this sunny day as activities were held near on-site Dap Dom lake.
A family-style dinner and a bonfire rounded out the evening as students unwound, listened to songs and stories by Madame Hiên and joined in song together. They also performed a short play to end the evening before heading to bed.
The next day students woke for an early breakfast followed by a 'found art' activity. In groups, year 4 students scoured our grounds collecting natural items in order to create nature murals. The results were beautiful and creative, naturally! Students enjoyed their final lunch, gave us a lovely bilingual 'thank you and goodbye' before heading back to nearby Hanoi.
W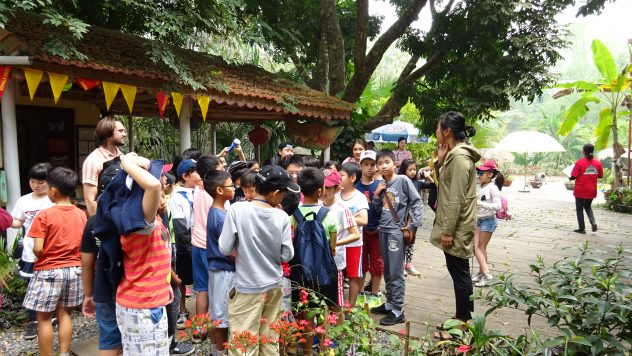 e truly enjoyed hosting these intelligent, well-behaved and eager to learn students and we hope to welcome them back again soon!
Functions – Private Events – Field Trips
This is not the first time we've had the honor of hosting large groups. Being a functions venue close to Hanoi we've had the pleasure of welcoming numerous national and international organizations like Oxfam, UNESCO, Transparency International and AUF OIF to name a few.
Our comprehensive facilities – conference room and projector, restaurant/bar, guest rooms –  can accommodate up to 200 guests for a seminar, workshop or conference and up to 500 guests for  sports tournaments or creative workshops which can be organized on request.
For more information on our group spaces and facilities please contact us directly at booking@lafermeducolvert.com.
Ever visited LFC? Tell us about it or share a favorite picture on facebook or instagram using #lafermeducolvert or #vitcoxanhresort.
Keep up to date with upcoming music, art events and exclusive offers at La Ferme du Colvert by following us on facebook or by subscribing to our monthly newsletter here (unsubscribe anytime) http://eepurl.com/csRnOr